(Note: this is from our email newsletter that comes out no more than once a month during our "off season" and weekly when we're broadcasting shows. You can sign up for it to fall into your inbox here!)
According to certain very dedicated Star Wars fans, today is "Life Day," a holiday first mentioned in the infamous Star Wars Holiday Special. Having seen it back before YouTube, when George Lucas had almost succeeded in eradicating all known copies of the program, well, it's not something I can recommend. Some things that are seen cannot be unseen.
For some things to hear, however, we can heartily suggest some options. Both seasons of Quorum and the interludes are being broadcast Sundays at 3pm on WERA, plus we've expanded where you can hear our shows…
Get All Our Podfeeds on Amazon Music/Audible
In our continuing efforts to reach new listeners who enjoy our style of audio fiction, we've made sure all five our our shows are on Amazon Music and Audible, so if you regularly use the services or have a friend who does, you can check us out there: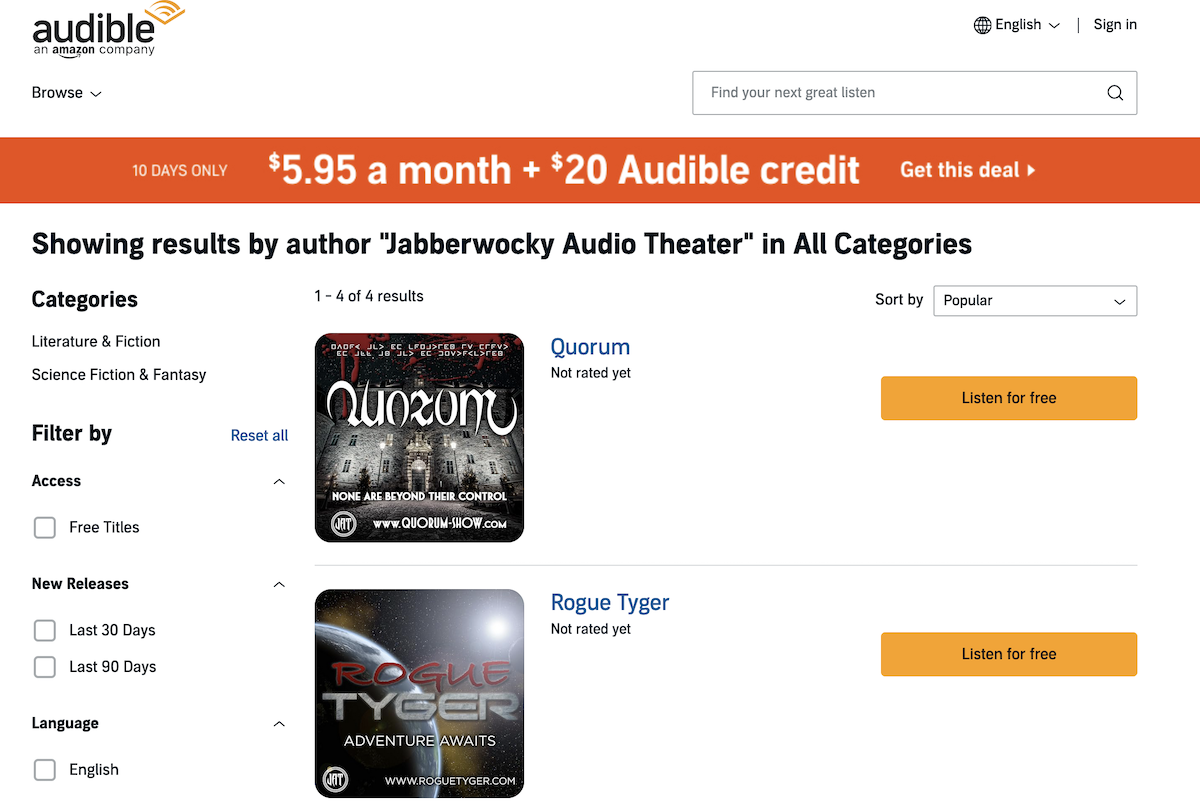 Two New Individual Podfeeds for Existing Shows
Many of you longtime listeners know we started with one single, all-in-one podfeed for all our shows, but a couple years ago, we broke out our most popular shows, Rogue Tyger and Quorum, into their own podfeeds. We decided it was time to give our two anthology shows a chance to shine and find more of an audience in their own podfeeds. If you haven't checked out these dramatic readings and semi-full cast episodes, all with award-winning sound design, now's your chance!
You can still hear just about everything we do audio-wise on our all-in-one podfeed, which, considering the season, you can think of as a sort of audio feast. (I say "just about everything," because, of course, our Patrons get to hear some bonus behind-the-scenes goodies and a few exclusive full-cast episodes on Patreon).
Thanks for reading, thanks for listening and safe travels to all of you in the States who are venturing forth to see family and friends this Thanksgiving. We'll be back with more updates in December.
Regards,
Bjorn Munson
Artistic Director, Jabberwocky Audio Theater
P.S. As mentioned above, you can always hear us Sundays at 3pm ET on WERA. You can also follow us on Podchaser, hear all of our episodes on our all-in-one podfeed, and naturally, the website — as well as a host of services including Apple Podcasts and Spotify. (These links go to our all-in-one podfeed, we'll be updating our links soon).